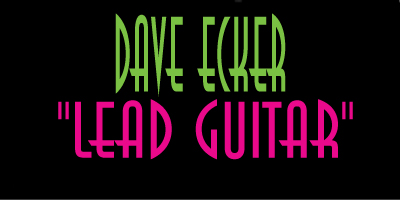 Dave's' love of music began almost the day he was born. After being brought home from the hospital his Mom, having heard if you immediately play music for a new born they will become "musically inclined", got home and placed him on the stereo, turned it on, and the rest as they say, is history.
"I have always loved music. From my first memory music has been everything to me." when Dave was 4 or 5 his Dad gave him his copy of the Beatles "Let it be" on vinyl and Dave woe it out doing nothing but listening to that record until............
Dave discovered KISS! their Destroyer album changed his life. Paul Stanley became his idol and role model. Kiss was larger than life. Their music was hypnotic, the energy level, the feeling it gave him. No matter what happened in life, Kiss kept him going. "They are THE reason I picked up a guitar". Like Jim, Dave's Mom tried to get him to play piano but it was not for him, he wanted to ROCK!
Dave got his first electric guitar at age 12 for Christmas from his Dad and he began taking lessons at the local music store. " I couldn't wait to get home after school and play!" The guitar became his constant companion, his "best friend" life's problems just disappeared with the guitar, and Dave got good, real good........
Dave formed his first band at 16. "Detox" was on the edge of punk but, Dave wanted more, Detox was not Kiss. Over the next couple of years Dave was in various bands, but in 1989 he joined "Live Wire" and spent the next 12 years gigging and honing his skills with them. In 1991 "he took a break from Live Wire and glamed it up with the Detroit band "Black Diamond". Hair extensions, Aqua Net by the case, curling irons, and lipstick, "What a great time! poison had nothing on us!"
Fast forward to 1996, Dave answered an ad in a Detroit newspaper to play Ace Frehley in a Kiss tribute band. The next 5 years were spent touring from Detroit to Indianapolis . The Band was featured in such notable publications as "Rolling Stone", "Metal Edge" and "Spin" just to name a few. During this time, Dave memorized and played every Kiss song from their first album to the "Elder" album (12 Albums in all). All this time Dave was perfecting his live performance skills and becoming a true artist.
In 2001 Dave moved to Reno, Nv and tried several times to form a band, but found it much more difficult than it was in Detroit. Well the hard work and patience has paid off with Hollywood Trashed and as one of it's founding members the next chapter is now being written.
Dave's Gear:
ESP "Michael Wilton" (Queensryche) Signature Strat
ESP Eclipse II
1958 Gibson Les Paul
Marshall JCM 2000 DSL Heads
Marshall Vintage Cabs
Custom Cabs
Boss: Reverb, Chorus, and Delay Pedals
MXR: EVH Phaser and Flanger Pedals
Ibanez Tube Screamer Pedal
ALL CONTENT © 2008 HOLLYWOOD TRASHED